Welcome, our names are Kyle & Vickie and we started Trashbusters in January of 1991 with a pick-up truck and just 13 customers in the town of Nottingham. Although it was intended to be a job on the side, it quickly became our only job. Growth was very rapid over the first years and required many truck changes to keep up. In 1995 we expanded our business into Barrington when we purchased a route from a northern NH based company. Being a neighboring town, this was a perfect addition for us.

Our continued growth in those two towns lead to a major change in the way we conducted our routes. To avoid the higher costs of adding days, we decided to add a satellite truck. Since this is uncommon in the rubbish industry, and non-existent for companies using front load trucks like ours, we had to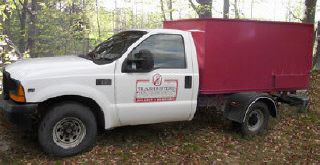 custom design and build this truck ourselves. This small truck is able to pick up customers in out of the way areas and roads that are just to small for our larger trucks. The large truck then lifts the body off the little truck and dumps it into itself. Using this system, we are able to cover twice as much area in the same amount of time while saving lots of diesel fuel in the larger trucks.

In 2005 we started a route in Raymond when the Town switched to the Pay-As-You-Throw program. We then purchased all of the residential routes from one of our local competitors in 2006 as they were preparing to sell their business. This added the towns of Epping, Newton, and Sandown, as well as many customers within our existing towns of Barrington, Nottingham, and Raymond. We also provide weekly pick-up in some areas of the towns of Lee, Northwood, and Strafford.

For the first time in our history, we sold off routes in 2 towns in 2016. While we're always looking to expand, it made sense to consolidate our routes due to our continued growth in our more local towns. We choose a couple companies more local to Newton and Sandown, and sold these routes to them. This change substantially cut our milage and time, allowing us to focus our efforts to a more local area, which helps keep our costs down, and continue the lowest rates around.

2016 also marked 25 years since we started our business. We're happy to say we still have almost all of those 13 original customers. As our motto says, we strive to be big enough to provide excellent service, without getting so big that we don't know our own customers. This cuts cost by eliminating the need for multiple trucks and employees. When you call, you'll be talking to one of us. We look forward to working with you and providing the service we are known for.